Hens and Chicks are perennial succulents native to Europe and Africa. Their other name is "Sempervivum," which means always alive. Hens and Chicks are resistant to pests and are hard to kill. Still, we need to take some steps to get rid of pests on our hens and chicks.
Common bugs that infest Hens and chicks are mealybugs, aphids, spider mites, vine weevils, and whiteflies. To get rid of these bugs, you can use rubbing alcohol, insecticides, and neem oil. If all these natural treatments don't work well, chemical pesticides are the only option.
To keep the Hens and chicks healthy, check your plant daily to look and identify any sight of pest attack. This article will provide information about pests, their identification, damaged signs, and how to remove them.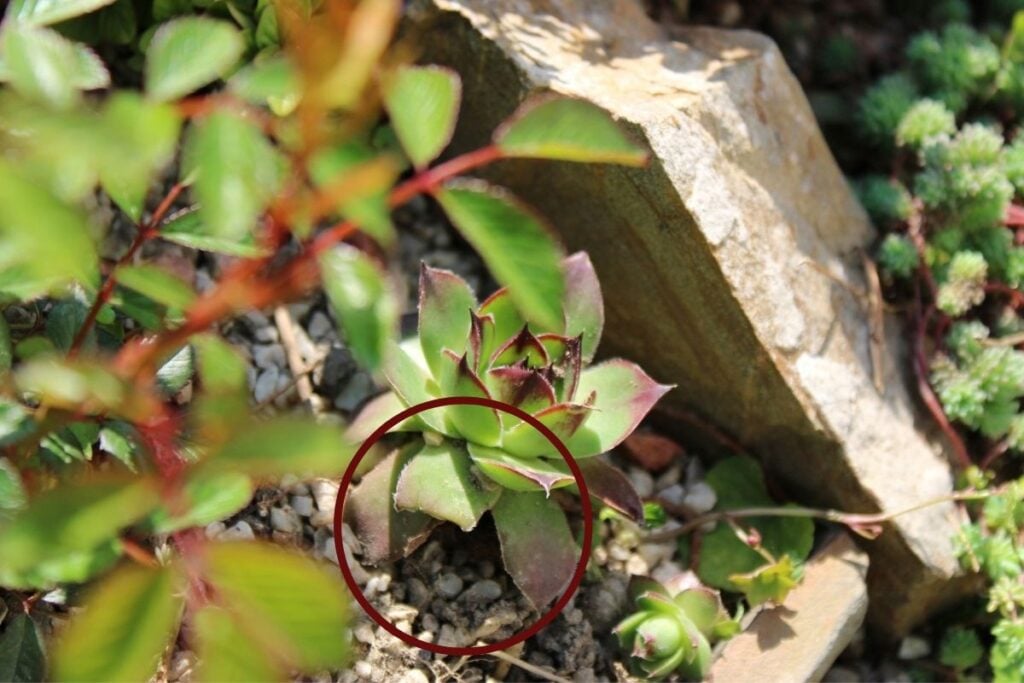 Common pests found in Hens and Chicks
Many pests will loiter, stay and feed on Hens and Chicks. No matter how resistant they are, terminate them soon.
Bugs found in this plant are:
Mealybugs
Spider mites 
Aphids
Whiteflies
Sempervivum leaf miner
Vine Weevils (Larvae)
To identify which one of the above bugs infested your Hens and Chicks, observe your plant closely to see the symptoms and their presence.
Mealybugs
One of the most common bugs found in Hens and Chicks is mealybugs.
The mealybugs feed on the sap of the plant. They enjoy this plant more because of their broad juicy leaves stored with water and nutrients.
After the bugs finish feeding, they release a sticky substance, i.e., honeydew excreted by the bugs.
Identification
Mealybugs are white-colored bugs.
They are difficult to point out with bare eyes, especially if the infestation is small and hidden.
These bugs have a wax coating as a shield to protect them from insecticides.
They are around 2-3 mm long. 
Signs of infection
The plant will look covered in white at various places, resembling cotton.
The plant will have a weak and withered look.
The leaves will look twisted and curled.
Sticky leaves.
How to get rid of mealybugs?
Water-based insecticides will not have a good effect because the bugs' white wax coat protects them.
Damp a cotton ball into rubbing alcohol and dab it on the infected area. It will weaken their shield and soon start falling off the plant.
You can even spray the alcohol. Dilute it to make the strength half and then use.
Use insecticidal soaps to remove them. Mix some drops of soap with 2 cups of water and spray on the infested areas.
The bugs will also infect the roots. Take the plant out, inspect and spray some solution. Dry the plant before planting again.
To use pesticides, try "Take Down Garden Spray."
They are difficult to remove from the plant.
Whatever method you are using, repeat them for a week or two until all the bugs are off the plant.
To prevent further attack, isolate the plant and avoid damp conditions in your plant.
Spider mites
Like mealybugs, they too love to feed on the sap of broad juicy leaves of Hens and Chicks.
They are so small in size that most of the time, they go unchecked.
The common mites are the red ones. 
Identification
Spider mites mainly stay on the underside of the leaves.
The leaves and stems will have tiny webs as if a path from leaves to the stems and vice versa.
Red spots are seen all over the leaves and stems.
Symptoms
Pale-colored leaves.
The leaves will have white and silvery spots all over.
They also leave behind red or brown spots on the leaves.
One common sign is web-like structures.
How to remove spider mites?
The solutions are similar to those of the mealybugs.
Dab rubbing alcohol on the infested area.
Spray the alcohol by diluting it to half strength.
Spray insecticidal soaps and soapy water solutions.
Isolate the plant to stop further spreading.
Inspect the roots too. If the infection is present, spray the alcohol solution, let them dry and plant them again in a new area.
For systemic treatment, use:
Juicykits Organic Bug Killer. It contains neem oil.
Take Down Garden Spray. It is an all-natural pesticide.
Natural systemic insecticides like Sierra Natural Science SNS 209 will help.
Before you try these, test them on a small part of your plant and then use them.
---
Looking for gardening supplies? We have tested 100's of products before recommending them to you guys. Check out our best pick below:
Image
Gardening Supplies
Best Price?

Top

Top

Raised Garden Bed Kit
Check On Amazon
XLUX Soil Moisture Meter, Plant Water Monitor, Soil Hygrometer Sensor for Gardening, Farming, Indoor and Outdoor Plants, No Batteries Required
No Results

Top

Top

82 Pcs Garden Tools Set and Extra Succulent Tools Set
Check On Amazon
Joeys Garden Expandable Garden Hose with 8 Function Hose Nozzle, Lightweight Anti-Kink Flexible Garden Hoses, Extra Strength Fabric with Double Latex Core, (50 FT, Black)
No Results

Top

Top

Dual Chamber Compost Tumbler
Check On Amazon

Top

Top

Sunnyglade Plant Stakes
Check On Amazon

Top

Top

Organic Cold Pressed Neem Seed Oil
Check On Amazon

Top

Top

Mighty Mint Gallon :-Insect and Pest Control Peppermint Oil
Check On Amazon

Top

Top

Scotts DiseaseEx Lawn Fungicide
Check On Amazon

Top

Top

Jacks Classic 20-20-20 All Purpose Fertilizer
Check On Amazon

Top

Top

30,000 Seeds Pollinator Attracting Wildflower Mixture
Check On Amazon

Top

Top

Survival Vegetable Seeds Garden Kit-Over 16,000 Seeds
Check On Amazon
---
Aphids
Like mealybugs and spider mites, they too suck out the juices of the plant and excrete honeydew from the plant.
These sticky substances can further encourage the development of sooty mold and ants.
Identification
Available in many colors, mainly light green.
Fat, teardrop-shaped bodies.
Found mainly underside the leaves.
Symptoms
Sticky leaves
Stunted growth
Misshapen leaves due to the sucking of juices from the plant's tissues.
How to get rid of aphids?
Shower the plant properly to wash off the aphids.
Spray soapy water. Add a few drops of soap to water and spray it. Let it on for some time and then wash it off. Spray more on the underside of the leaves.
Release ladybugs. They will feed on and kill the plant.
Spray neem oil. It works for most bugs. Don't expose the plant to direct sunlight. It can burn the leaves. Do this during the night.
Mix 1 tablespoon or 15 ml of the oil with 8 cups of water and spray to the infected areas, concentrating more under the leaves.
That is where the bugs live. Do it once a week until resolved.
Prevent prolonged damp conditions in your plant.
Whiteflies
Whiteflies are small, white, flying insects living under the leaves.
They reproduce so quickly that it may be difficult to control their growth. 
They, too, produce honeydew and make the leaves sticky.
Identification
Flat and clear-looking insects, measuring less than 1/6 in width.
They are visible on the undersides of the leaves.
Powdery flies with wings.
Symptoms
Sticky leaves
Development of mold
Impulsive dropping leaves
How to fix it?
Shower the plant with a garden hose.
Spray the plant with diluted rubbing alcohol. Make the strength to half.
You can also use soapy water. Mix some drops of soap with a cup of water, shake and spray on the infected area.
Continue until the problem is resolved.
Scales
Scales are available in many species with different shapes and sizes.
There are two types of scales – soft-bodied scales and hard-armored scales.
They, too, suck the plant's saps, damaging and making it prone to diseases and droughts.
Identification
Available in many colors, depending on the variety, from brown to cottony white.
These measure ¼ inch in length.
They resemble tiny, circular bumps.
Mature scales sit in one place once settled.
Symptoms
Brown bumps on the leaves.
As they pierce to suck the juices, you can find piercing signs on the leaves.
Leaves become yellow.
Soft-scaled scales produce honeydew, increasing the chances of sooty mold.
How to remove scales?
If you notice fewer bumps, handpicking or using tweezers will be effective.
In the case of hard-armored scales, remove the leaves if they are huge in number.
The armor protects them from insecticides.
Dab cotton ball dipped with rubbing alcohol. It can help weaken the shield and kill them eventually.
Use insecticidal soaps. It too weakens their shell and kills them.
For many soft-bodied scales, release ladybugs. They will feed on them and relieve your plant from scales.
For systemic treatment, you can use:
Vine Weevils larvae (Otiorrhyncus sulcatus)
It is the larvae of Vine Weevils that feed on the roots of Hens and Chicks. 
They attack primarily during the spring, autumn, and winter.
If you leave the plant without inspection, they will slowly eat the whole plant.
These larvae like smooth to hairy-textured leaves.
Identification
To identify them, you have to check the plant base and the roots during the early spring.
A white, legless creature with a brown head.
They measure about 10 millimeters.
Primarily available in potted Hens and Chicks near the roots.
Symptoms
The plant gets detached from the soil and lies alone over the bed.
Wilted and collapsed plant.
If neglected, only some leaves will be left to see.
How to remove them?
A chemical insecticide named Imidacloprid will give your plant protection from these larvae for a long time.
A biological controlling method is to use Nemasys.
These contain nematode worms that feed and kill the larvae, making your plant utterly free from them.
Sempervivum leaf miner
These are common in all Sempervivums.
They were first noted in 2008 in England, but their origins are from Europe.
Sempervivum leaf miner is a hoverfly whose larvae affect and attack the Hens and Chicks.
Identification
The adults are only 8-10 mm, black with tiny white hairs on their abdomen and thorax.
You will notice eggs on the leaves.
These eggs get hatched during the late spring to early summer.
When the larvae take birth, they slowly move towards the outer leaves to feed their tissues. One larva can damage several leaves until its hunger is satisfied.
Symptoms
The affected leaves of the plant turn grey or brownish-green, indicating that the tissues inside are fed.
Limp and dry leaves.
Small rosettes fail to make up.
A small hole will be visible at the leaf base when the larvae move from one leaf to another, 
Symptoms are seen from mid-May to June and again from August to September.
How to get rid of them?
Avoid overwatering your plant.
Use well-drained soil.
These larvae love to stay in prolonged damp conditions.
These are difficult to treat because they move inside the leaves to feed their tissues.
Remove the ones found outside by handpicking and chemical insecticides. 
Other pests found in Hens and Chicks
Rodents (rat, mice, squirrels, chipmunks, moles, voles, etc.)
Rodents attack your garden bed and push the plant out of its place while making tunnels.
Rodent destruction can be massive in one night.
It happens mainly with the young plants that are recently planted and don't have strong roots.
Sometimes, they even bite your plant out of hunger.
However, they won't stay after eating because they will hate the leaves' sour taste.
Some of them (squirrels and chipmunks) even dig out the plant to bury their nuts and make a mess out of it.
Symptoms
Plants detached from the soil.
Plant lying alone on the surface of the soil. 
Biting leaves.
How to get rid?
Create a fence to stop them from reaching the garden bed.
Leave a chicken grit to deter them.
You can use Plantskydd. It works for all rodents and pests.
Try using products that change the taste and smell of your garden bed.
Use methyl nonyl ketone crystals and mothballs to deter them.
Deer and rabbits
They enjoy munching your Hens and Chicks.
I am not sure whether they will enjoy the taste or not, but they will make a mess out of your garden bed and destroy them is for sure.
They seldom attack the plant, like during the late winter or spring.
It is a time when food is rarely available for them in the surrounding areas.
Rabbits do more damage than deer.
But whatever the damage is, it's irreversible.
Symptoms
Biting marks on the plant.
Leaves scattered here and there
Diagonal biting indicates rabbit attack.
How to stop them?
First and foremost, create a proper fence or barrier to stop them from entering your garden.
Spray some Plantskydd to deter them.
You can also use Liquid Fence.
Try planting some strong-smelled plants like Sage or Lavender.
Sprinkle some cayenne pepper around your garden bed.
Final thoughts
Many pests will feed on your Hens and Chicks over and again. Though the Hens and Chicks can resist them, fight them and also bounce back to health, you should still try to fix it quickly and prevent conditions that can invite pests.
Whatever solutions you try to get rid of bugs, spray some to the planted location to stop the spreading. Mostly too damp or dry conditions are responsible for pest infestation. Try to make the changes quickly and always create a fence around your garden bed to prevent pests like rodents and deer.
Take care of the plant with their adequate requirements to see your garden filled with healthy Hens and Chicks along with lots of young offsets.
---
Reference: Wikipedia, Iowa State University of Science and Technology, The University of Arkansas Division of Agriculture, NSDU, The Ohio State University, Missouri Botanical Garden.