Hibiscus plants are sun-loving plants found worldwide. As they stand near the direct sunlight the whole day, it gets difficult for the bugs to stay and breed in them. However, the plant will still get infected by some bugs.
The common bugs in Hibiscus plants are aphids, spider mites, scales, whiteflies, mealybugs, thrips, gall midge, and Japanese beetles. In most cases, insecticidal soaps, rubbing alcohol, and Neem oil can help in removing these bugs. If these fail, the last option is using pesticides.
Overwatering, prolonged droughts, and lack of airflow are common reasons behind the infestation.
If you want your plant to be safe, you should check for pests in the plant daily.
This guide will help you know and identify the specific bugs that attack your Hibiscus and how to deal with them.
Why do bugs attack the Hibiscus plant?
Generally, overwatering, prolonged droughts, high humidity, and lack of air circulation are common reasons.
When you overwater the plant, it stays wet for a long time.
Pests like mealybugs, fungus gnats, scales, and aphids enjoy moist conditions and start breeding.
They feed on the sap and chlorophyll and make the leaves sticky due to their excretion of honeydew.
This further causes sooty mold.
Prolonged drought conditions will make the plant weak and prone to infestation.
Pests like spider mites enjoy staying around dry conditions. 
Japanese beetles, too, will attack Hibiscus plants on hot sunny days, especially when new growth appears. 
Hibiscus enjoys high humidity.
While trying to increase it, also ensure proper air circulation.
Lack of airflow and high humidity makes the surrounding damp for a long time.
Since most pests enjoy moist conditions, there are high chances of infestation.
Which bugs attack the Hibiscus plants?
Several bugs will attack your plant if conditions are made favorable.
Let's have a quick look at the list of bugs:
Aphids
Mealybugs
Spider mites
Thrips 
Scales
Whiteflies
Gall midge
Japanese beetles
Green worms
Fungus gnats
Now, let's see how to identify them and get rid of them.
Aphids
Aphids are tiny bugs that suck the saps of the plant and make the plant weak and lifeless.
They excrete a sticky substance called honeydew.
The leaves become sticky, and over time, it causes sooty mold.
Aphids enjoy attacking the new flower buds.
They enjoy in stay in moist areas.
Identification
They vary in color – green, black, yellow-greenish, brown, and red.
Adult aphids have wings
They are 0.06 inches long
Soft-bodied and pear-shaped
Found mostly on the underside of the leaves
Signs of damage
Curly leaves
Stunted growth 
Sticky leaves
Black, fungus-like growth in the plant
Leaves with small holes
Leaves turning yellow and dropping.
Flower buds are not opening.
How to remove aphids from Hibiscus plants?
If you have caught the infestation at the initial stage:
You can control their population by showering the plant with a garden hose at good force.
Wash all sides of the leaves, stems, and buds.
Use Imidacloprid to kill the aphids systemically. Apply it to the soil and let the plant absorb it. When the aphids again suck the sap, they consume them and die.
Spray Neem oil all over the plants, especially on the infected area. Do this twice a week until the problem is solved. You can also use it normally once a month or every 15 days to prevent infestation.
Mix some detergent in a spray bottle filled with water and spray it on all sides of the plant, especially on the infected area. Rinse the excess with water. The detergent coats their body and reduces their oxygen, and kills them.
Use insecticide if the infestation is medium or large. Some include Bonide Systemic Insect control, BioNEEM Insecticide and Repellent Ready to Spray or Concentrate, Ortho Max Flower, Fruit and Vegetable Insect Killer.
Release natural predators like ladybugs, lacewings, or mantis. 
---
Looking for gardening supplies? We have tested 100's of products before recommending them to you guys. Check out our best pick below:
Image
Gardening Supplies
Best Price?

Top

Top

Raised Garden Bed Kit
Check On Amazon
XLUX Soil Moisture Meter, Plant Water Monitor, Soil Hygrometer Sensor for Gardening, Farming, Indoor and Outdoor Plants, No Batteries Required
No Results

Top

Top

82 Pcs Garden Tools Set and Extra Succulent Tools Set
Check On Amazon
Joeys Garden Expandable Garden Hose with 8 Function Hose Nozzle, Lightweight Anti-Kink Flexible Garden Hoses, Extra Strength Fabric with Double Latex Core, (50 FT, Black)
No Results

Top

Top

Dual Chamber Compost Tumbler
Check On Amazon

Top

Top

Sunnyglade Plant Stakes
Check On Amazon

Top

Top

Organic Cold Pressed Neem Seed Oil
Check On Amazon

Top

Top

Mighty Mint Gallon :-Insect and Pest Control Peppermint Oil
Check On Amazon

Top

Top

Scotts DiseaseEx Lawn Fungicide
Check On Amazon

Top

Top

Jacks Classic 20-20-20 All Purpose Fertilizer
Check On Amazon

Top

Top

30,000 Seeds Pollinator Attracting Wildflower Mixture
Check On Amazon

Top

Top

Survival Vegetable Seeds Garden Kit-Over 16,000 Seeds
Check On Amazon
---
Mealybugs
Mealybugs are also sap-sucking insects that release honeydew.
They suck the fluids from the stems and leaves, thus making the plant deficient in nutrition and vigor.
Due to the release of honeydew, a black fungus called sooty mold develops.
It disturbs photosynthesis, and the plant suffers stunted growth.
Mealybugs enjoy a warm and humid environment and are most visible in spring and summer.
Since they hate winter, they overwinter as nymphs and eggs and again get spread from previously infested plants and ants.
Identification
They are tiny white bugs. 
They have a wax coating that works as a shield to protect them from pesticides.
They measure 2-3 mm in length.
Signs of damage
Yellow leaves
Flowers dropping off before the time
Buds falling off before blooming
The leaves will have a white, cotton-like substance.
How do I remove mealybugs from Hibiscus plants?
Dip a cotton ball into the rubbing alcohol and dab on the infected area. The alcohol will weaken their shield and kill them.
If the infestation is small, scrape them and collect them in a plastic bag.
Try a systemic pesticide containing Imidacloprid that will get absorbed through the roots. When the mealybugs suck the juices again, they will absorb the chemical too and die.
You can also try a cleaning product called Limonene. It will weaken their protection shield and clean the honeydew and sooty mold. Mix the product with water to make a perfect concentration and spray directly on the infected area.
Release natural predators.
Spider mites
Spider mites, too, are sap-suckers.
They suck the saps and chlorophyll of the plant and weaken it.
They get unnoticed until the plant reveals the symptoms of damage.
They arrive with few members and spread rapidly.
One female mite will lay 20 eggs and live for 2-4 weeks.
Though their lifespan is less, they can spread faster due to the number of eggs they can lay at a time.
Identification
Measures less than 0.04 inches
Oval-shaped and slightly bristled.
Mostly, they are red.
Have are called two-spotted because they have two spots at the back.
Symptoms of infestation
Leaves having webbings is a significant sign of infestation.
Leaves have silver spots and yellow edges.
Holes in the leaves and flowers
Stippled leaves
How to remove spider mites from Hibiscus plants?
Release natural predator called Feltiella acarisuga. This predatory gall midge will eat up to 15 mites and 80 eggs per day in one week.
Wash the plant thoroughly with lukewarm water. Since these mites enjoy dry conditions, showering the plant will force them to leave.
Mix one teaspoon of horticultural oil with one-quarter water and spray it on the plant, especially on the infected area.
Remove the highly infected parts of the plant.
Neem oil, insecticidal soaps, and horticultural oils can also help to remove and kill them without harming the plant.
Add 2½ tablespoons of liquid dish or hand wash with 1-gallon water and spray the plant. First, try it in a small part of the plant. If it doesn't show any harmful signs after 24 hours, use it on the whole plant.
Thrips
Thrips are another sap-sucking insect.
It feeds on the juicy content and makes the plant weak and prone to diseases. Thrips get attracted by bright-colored flowers.
Identifying thrips
Thrips are tiny bugs with a lean body and asymmetrical mouthparts.
They have fringed wings.
Their larvae are found in flower buds and don't have wings.
On the leaves, they look like tiny dark silvers.
They are bigger than 1 mm.
Their bodies are translucent white or yellow to deep brown or black.
Symptoms
The initial sign is yellow spots on leaves and dead blotches on the flowers.
Discolored and twisted plant
The leaves become silvery with black spots and pale before dying.
Bud drops 
Scratch marks on the petals and leaves 
Over time, the leaves and the flowers become thin and wilted.
How to get rid of thrips from Hibiscus plants?
Cut off the rotten and affected bugs and dispose of them in the dustbin.
Spray some Neem oil to the plant. It is harmless and effective but will take some time to show results.
Since they have wings to fly, use sticky cards to trap them.
Use insecticidal soaps and sprays like Malathion or Acephate. Spray it all over the plant, covering the flower buds.
Imidacloprid will also help in eliminating thrips.
Use Spinosad to spray on the tops of the plant, especially covering the flower buds and upper leaves of the plant. Use the product for all three treatments (adults, eggs, and pupae) for 5-7 days.
Scales
There are several species of scales, but black scales and snow scales are the common ones in Hibiscus.
They enjoy wet conditions.
Black scales are found underneath the leaves.
They are the soft scales.
Snow scales are white, cottony-like scales, and they have a hard shell over their body that protects them from pesticides.
If you want to treat them, avoid using general water-based pesticides. 
Identification of black scales
Adult female measures 1/5 inch long and 1/8 inch wide
They are dark brown to black.
They have a convex body shape and an H-shaped ridge on the back.
You will see black, small bugs on the leaves.
Identification of snow scales
The females measure 1.5 to 2.25 mm.
The females have an oyster shell-shaped shield with a central longitudinal ridge.
The shell is brown-purplish to black with a grey border.
The males have wings and are bright orange.
They look like white, cottony bugs.
How to get rid of scales from Hibiscus plants?
For the soft-bodied scales, try the natural predators like ladybugs, lacewings, and mantis.
Avoid using general pesticides as they can reduce the population of natural predators.
Use insecticidal soaps for the soft scales. Mix 1 ounce of soap with 1-gallon water and apply it on the plant, mainly on the infected area. It is more effective if used at the larval stage.
Let the plant have direct sunlight. The high temperature received from the heat will kill the scales.
Use Neem oil and horticultural oil. Add 1-2 teaspoons of detergent and 1-2 tablespoons of neem oil with 1-gallon water and spray over the plant daily twice.
Mix equal parts of baby oil and rubbing alcohol and brush it on the infected area. The rubbing alcohol will weaken the hard-bodied snow scales and even kill them. Rinse the plant after 30 minutes of application. Make sure the plant doesn't stay under direct sunlight during this treatment.
You can also try cooking oil. It can smother the scales and even fry them. Spray 12 inches away from the infected area and don't apply on the uninfected parts.
Whiteflies
Though these flies have four white wings, they are not real flies.
The females lay eggs under the leaves, and they mature in clusters.
Their mouth organs support sucking the saps of the plant.
They will also release honeydew on the leaves, causing black sooty mold.
Identification
Two types of whiteflies are available – greenhouse whitefly and silver leaf whitefly.
The adult whiteflies are about 0.15 to 0.2 inches long.
The adult greenhouse whiteflies are 0.6 inches in length with V-shaped wings.
They have a white waxy coating and wings parallel to the leaf surface.
The adult silver leaf whiteflies are 0.05 inches long and have a yellow hue.
The wing curves outwards, resembling a small white oval boat.
The female whiteflies eat and lay eggs together, especially under the leaves.
Signs of damage
Sticky leaves and black sooty mold
The sooty mold covers the leaves and creates an obstacle to appropriate photosynthesis.
Discolored and fallen leaves
How to get rid of whiteflies from Hibiscus plants?
Yellow sticky cards can trap them.
Prune off the damaged leaves before the infestation increases.
Shower the plant forcefully every week to scatter and remove the bugs.
Apply Neem oil, insecticidal soaps, and other horticultural soaps to the plant. These will suffocate the nymphs and restrict their growth.
Use soapy water to remove them. Add 1 tablespoon of liquid dish soap with 1-gallon water, transfer it to the spray bottle and spray it on the infected plants, especially under the leaves and stems. Use it every couple of days to eliminate the adults and the eggs.
Gall midge
Gall midge is a tiny fly that lays eggs in flower buds.
Their features are similar to thrips.
They, too, enjoy warm conditions.
When the eggs hatch, the larvae feed through the buds and destroy them until they fall off to the ground.
Identification
Usually, they are 2-3 mm long, but some are less than 1 mm.
The adults lay eggs on the open tips of the flower buds.
When you open the buds, you will find tiny worm-like larvae.
Symptoms
Yellow flower buds
Buds falling off
Buds are smaller in size.
How to get rid of gall midge from Hibiscus plants?
Keep collecting the fallen and yellow buds and throw them into the dustbin.
Use a systemic pesticide and drench the soil to kill larvae under the ground. Bayer Rose and Flower is a good one.
Spray your flower buds, stems, branch tips, and top of the plant with Bayer Advanced 3-in-1 insecticide to kill the crawling larvae or the flying bugs.
Before using any chemical products, follow the precautions and use the correct dosage for application. You don't want your plant to suffer from chemical shock.
Japanese Beetles
Japanese beetles are destructive bugs.
They come out of the ground and start feeding in June when the weather is warm.
They prefer to attack the plants under direct sunlight.
They feed on the upper surface of the leaf, munching out the veins and tissues.
They can even consume a petal completely.
A single beetle doesn't eat much, but their group will devastate your plant.
Identification
They measure around 7-16 inches in length.
They have metallic green bodies with copper-brownish wings and dark green legs.
Under the wing, they have a row of white hair spots covering each side of the body.
Signs of damage
Skeletonized foliage as they feed on the tissues of the leaf surface.
Leaves will have multiple holes.
Beetles flying around your garden
Your yard has unhealthy, brown patches.
How to get rid of Japanese beetles from Hibiscus plants?
Place a bucket of soapy water under your plant and shake it to dislocate the beetles and make them fall in the water.
Plant some repellents near the Hibiscus, like, catnip, chives, garlic, or white chrysanthemums.
Buy beneficial nematodes and apply them to the soil as described in the package in the early evening during the late summer or late fall.
Stop watering the plant to stop the beetles from laying eggs in the wet soil.
Green worms
These are the looper caterpillars.
They come from adult moths and are found in the garden of Hibiscus. 
They continue eating the leaves until they pupate in moths.
Identification
They are bright green.
They are around 2 inches long.
They have three legs behind their head and pairs of fleshy false legs on the 3rd, 4th and last segments.
Symptoms of damage
Holes in the leaves
Distorted leaves
Skeletonizing the leaves over time
Plants are getting defoliated and having stunted growth.
How to remove green worms from Hibiscus plants?
If the infestation is small, remove them by handpicking. Collect in plastic and discard in the dustbin.
Spray and shower the plant with a garden hose.
Spray some soapy water on the plant thoroughly. It will drown them and also kill the eggs on the leaves.
Sticky yellow cards can trap adult moths and stop them from breeding. It will even trap the caterpillars when they crawl around.
Expose them to the sunlight in an open space where other bugs and insects can feed on them. 
If the infestation is huge, you can replace the soil. Tilt the top few inches to understand the depth of the infestation and replace it with new soil.
Neem oil can help to remove them. It will be safe and effective.
Fungus gnats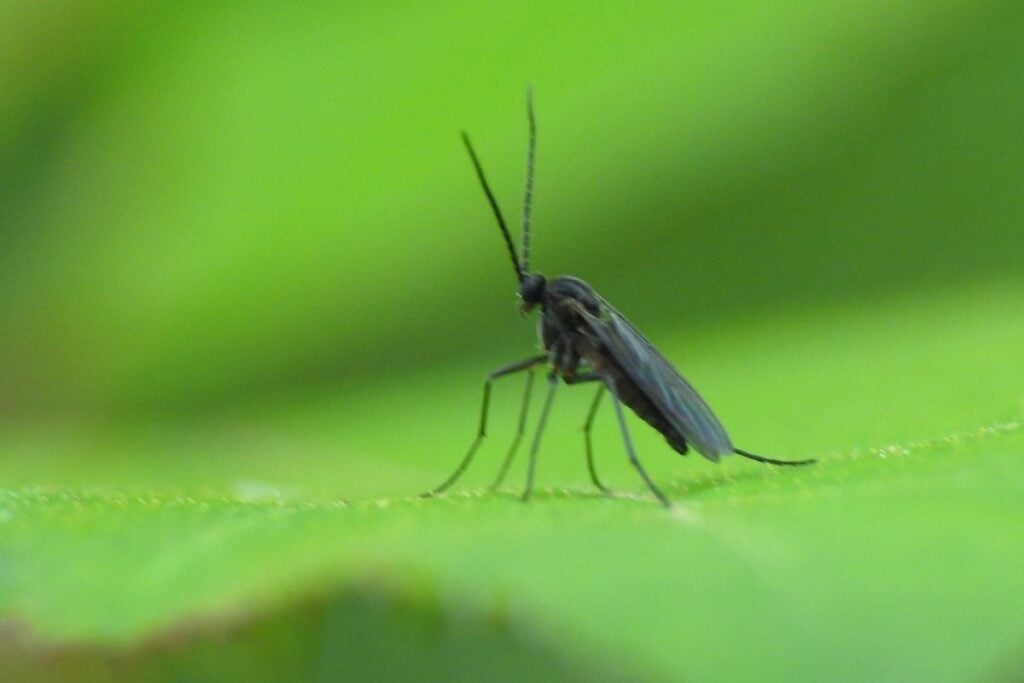 These non-biting bugs are a mere nuisance that keeps flying around the plant.
They enjoy staying in wet, damp soil having decayed elements.
Their larvae are dangerous as they feed on the roots and affect the plant's growth.
Identification
Adults are black, resembling mosquitoes, and are 1/8 inches long.
The larvae are white and translucent with shiny heads, measuring ¼ inches.
They look like small maggots and come out to loiter and destroy the plant at night.
Symptoms
Yellow leaves
Sudden wilting 
Poor development
Slow growth or no growth
How to control the fungus gnats in Hibiscus plants?
Mix a large drop of dish wash or detergent with 1-gallon of fertilizer water and use it each time while fertilizing. It will work as insecticidal soap and kill the larvae.
Use pesticides like Bayer Advanced 3-in-1.
Neem oil will control the adult gnats.
Use sticky traps to trap the adult gnats and stop them from breeding.
Add some peeled potato chunks. 
Add 1-2 teaspoons of Bacillus Thuringiensis with 1-gallon water and drench the soil. For a heavy infestation, add 4-8 teaspoons of Bacillus.
Note: In multiple circumstances, neem oil is used to eliminate pests.
Remember not to expose the Hibiscus under direct sunlight while dealing with the pests with Neem oil.
It will burn the leaves.
If your plant is outdoors, consider spraying neem oil when the sun goes down.
Maximum bugs enjoy warm, humid, wet, damp, and dry conditions.
Prevent such conditions, and you can inhibit the infestation from further occurrence.
When you find that the plant is infested, take immediate steps and isolate the plant.  
Spraying neem oil every 15 or 30 days can prevent infestation.
Always wear gloves while dealing with bugs to avoid skin irritation.
---
Reference: Wikipedia, ASPCA, Louisiana State University Agricultural Center, American Society for Horticultural Science, Tropical Hibiscus by Texas A&M University, Sciencedirect.