With so many benefits, it is easy to see why raised beds became so famous. Since most growers prefer wooden beds, selecting the right type of wood is important for a long-lasting bed. 
Cedar, Redwood, Pine, Cypress, Black Locust, and Oak are the best woods for raised garden beds. Pressure-treated woods are good, but the chemicals used can leach into the soil and harm the plants. Avoid using recycled wood as it might contain chemicals like pentachlorophenol or Penta.
Before you select the best wood for your bed, you must consider certain factors. This article will explore the world of raised beds to discover the best woods, their pros and cons, and some woods you must avoid.
Factors to consider while selecting the wood for raised beds
While you select the right type of wood for your raised beds, there are certain factors you need to consider.
It helps you select the best woods for your beds.
Durability
If you wish to have your raised beds for long terms, use the rot and pest-resistant woods with a durability of 20 years or more.
Cedar or Black Locust is a good one.
However, if you want your raised beds for a short time, durability is not important for your beds.
You may use any beds. Some pallets last only 5-7 years. 
Safety
Growing plants or vegetables at home in raised beds is fun and exciting. 
But for healthy plants and veggies, choose the wood that doesn't contaminate the soil. 
The toxic chemicals present in the woods will slowly leach into the soil and harm the plants.
So, it is necessary to use good-quality woods that are not treated with any chemicals.
Cedar or redwood are free from such chemicals and toxins.
They are also rot and pest-resistant.
Some pallets have MB, i.e., methyl bromide. Using these woods can contaminate your soil and kill your plants.
If you must use pallets, use heat-treated or HT pallets.
FSC certification 
Forest Stewardship Council (FSC) certification is a global organization where forestry conservations are checked and confirmed through a thorough examination and certification approaches. 
An FSC-certified wood means it is sustainable, exists in the market, and is widely used for making raised beds.
Availability
You must go for those products that are easily available in your area or locality. 
If you buy wood out of your locality, you have to place an order, wait for it to arrive, and pay extra for the delivery and shipping.
Besides, if anything wrong happens, your local seller won't be able to help you out.
Cost
You must ensure that the material you want to use is affordable, especially if you want it for a short time. 
You don't need to invest money behind a costly product if you don't intend to keep the raised bed for long.
Can I use pressure-treated woods?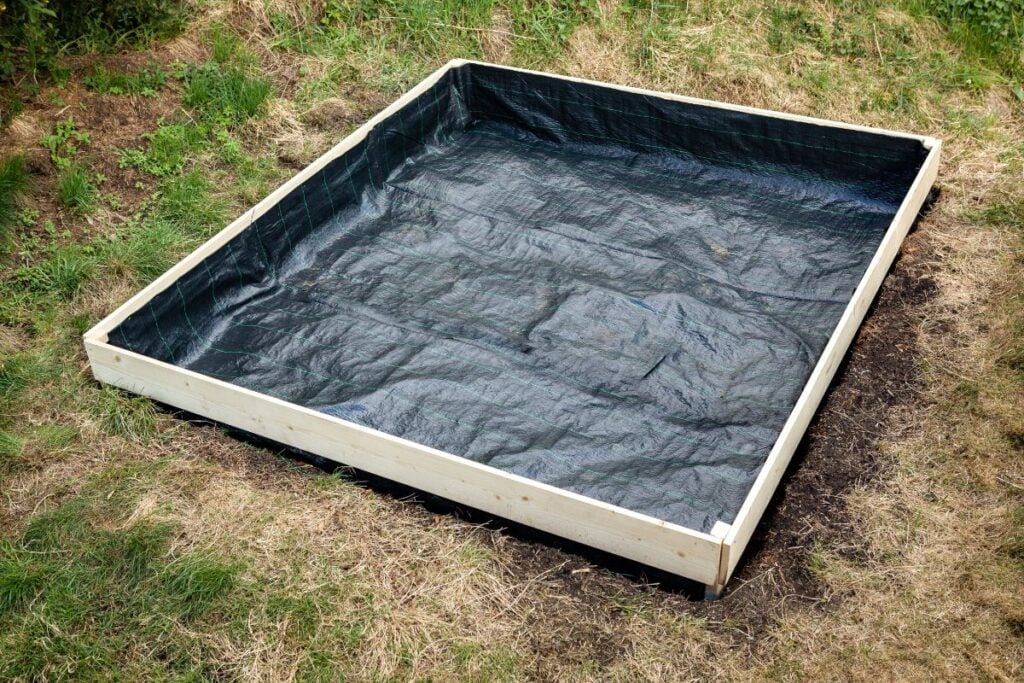 There is no exact answer to this question as some growers use them and some don't. 
Pressure-treated woods are considered safe for gardening by many growers.
These woods are treated and made more resistant to rot, decay, pests, and diseases.
Many growers support using untreated woods because they don't have any chemicals.
So, there are no chances of leaching.
But the drawback is they are not resistant like the treated woods. 
But untreated woods are still preferred by gardeners involved in organic farming.
They don't keep any chemically treated materials around them.
Pressure-treated woods are treated by:
Alkaline Copper Quaternary (ACQ)
Copper Azone (CA)
Micronized Copper Quaternary (MCQ)
Sodium Borate (SBX)
Chromated Copper Arsenate (CCA)
Environmental Protection Agency (EPA) stopped CCA in 2003 because arsenate leaches into the soil and harms the plant's health. 
The other products contain fungicides that protect the plant foot from fungi and copper, which prevents infestations. 
If you use pressure-treated woods but want to take safety concerns for your plants, consider the following steps:
Consider checking the condition of your soil regularly.
If there are any metals, take them out, replace the soil, and replant the plants. 
Use plastic linings or wood sealers to avoid leaching chemicals from the treated woods.
---
Looking for gardening supplies? We have tested 100's of products before recommending them to you guys. Check out our best pick below:
Image
Gardening Supplies
Best Price?

Top

Top

Raised Garden Bed Kit
Check On Amazon
XLUX Soil Moisture Meter, Plant Water Monitor, Soil Hygrometer Sensor for Gardening, Farming, Indoor and Outdoor Plants, No Batteries Required
No Results

Top

Top

82 Pcs Garden Tools Set and Extra Succulent Tools Set
Check On Amazon
Joeys Garden Expandable Garden Hose with 8 Function Hose Nozzle, Lightweight Anti-Kink Flexible Garden Hoses, Extra Strength Fabric with Double Latex Core, (50 FT, Black)
No Results

Top

Top

Dual Chamber Compost Tumbler
Check On Amazon

Top

Top

Sunnyglade Plant Stakes
Check On Amazon

Top

Top

Organic Cold Pressed Neem Seed Oil
Check On Amazon

Top

Top

Mighty Mint Gallon :-Insect and Pest Control Peppermint Oil
Check On Amazon

Top

Top

Scotts DiseaseEx Lawn Fungicide
Check On Amazon

Top

Top

Jacks Classic 20-20-20 All Purpose Fertilizer
Check On Amazon

Top

Top

30,000 Seeds Pollinator Attracting Wildflower Mixture
Check On Amazon

Top

Top

Survival Vegetable Seeds Garden Kit-Over 16,000 Seeds
Check On Amazon
---
Different types of woods for raised beds
Several other wood materials are available as an alternative to pressure-treated wood for making raised beds. 
They are also long-lasting and easily available. 
1. Cedar
A widely used wood for raised beds is cedar wood.
Western red cedar and Alaskan yellow cedar are the best in this category. 
Cedar has some great qualities, like:
It's naturally rot-resistant. It doesn't require any extra chemical treatment. Cedar will last for a very long time in any type of climate.
Cedar is also water-resistant and won't become soft easily. Therefore, there is less chance of bowing. 
It is also naturally pest-resistant because it has a chemical that can naturally keep insects away. 
Cedar is a strong wood that will last for 30-50 years. 
When you keep a raised bed made with cedar outside in your garden, you will notice a silver shade after 1-2 years. It makes your garden an aesthetic appearance. 
Despite having such great qualities, it has some cons:
Cedar is expensive.
Cedar is strong but lesser than other hardwoods.
Cedar woods are very flammable.
In some Home Depot and Lowes, cedar woods are available only around 12 inches wide. For tall raised beds, you need to buy tow boards around 12 inches tall.
2. Redwood
The next most popular wood after Cedar is Redwood.
It is easily available and used in many gardens because it lasts more than a decade. 
Redwood is decay-resistant naturally.
The beds made out of redwood have fewer chances of insect infestation. 
Redwood has an oil that the plant naturally produces.
This oil helps prevent the wood from rotting and increases the lifespan to 20 years.
Though redwoods are softwoods, their natural tannins make them more durable and last longer than cedar woods. 
Redwoods are very light to handle.
The cons of redwood are:
Since it is softwood, it will need proper finishing. Otherwise, it will start bending after some years. 
It will need high maintenance and effort.
Redwood is expensive.
3. Pine
Pine is softwood, but it is very suitable for garden beds and is very attractive. 
Pinewood is a great choice because you can purchase it at a very low price compared to redwood and cedar. 
Though the wood is soft, it has more resilience than redwood and cedar. Due to its stability, there are lower chances of bowing. You can keep the frames steady for screwing, drilling, or sanding.
As a beginner, pinewood can be perfect to begin. 
But, it has some cons.
Pinewood is not resistant to moisture, rotting, and pest infestation. Unlike other woods, pinewood requires proper sealing and finishing with paint or sealer.
Compared to the hardwoods, pinewood lasts for only 7-10 years, much less than cedar and redwood.
4. Cypress
Pure Cypress Raised Garden Bed
With our unique notch wood design, you dont need tools or fasteners. Just slip the pieces in place and get to gardening faster.

Our 36in tall elevated planter box lets you experience less back strain from bending.

What makes this cypress garden bed a cut above the rest is the full inch thick walls that make it incredibly durab
Cypress adds a rustic appearance to your garden beds.
Besides cedar and redwood, cypress is also considered one of the famous woods for making beds. 
The wood has natural rot-resistant, moisture-resistant, and pest-resistant capacities. 
It also contains natural oil that protects them from outdoor elements.  
The wood is easy to work with because it can be nailed, glued, and sanded.
So, it is great for beginners. 
The woods can fit tightly without any gaps, giving a lovely finish. 
Cypress can hold the paints for a long time without any issues. 
It has a bright yellowish-brown color and a straight grain texture, which gives a stunning finish and appearance. 
You get so much at a very affordable price. 
The problem with this wood is its toxicity levels.
Protect yourself before dealing with it. Besides, it has a very sour smell.
5. White oak
Oak has 50-100% resistance against rotting.
It is also strong after Pine and has many other good qualities.
The wood is highly durable and resistant to scratches, dents, and moisture.
The wood is naturally rot-resistant. They will last for over a decade.
The oak wood has a grain texture, making your garden bed elegant. 
The texture remains the same even after applying paint or stains. 
But it is expensive. 
Oak wood is very heavy and hard to handle and work.
It may be water, pest, or rot-resistant, but it has no heat resistance.
6. Juniper
Rustic-looking Juniper is very strong and durable. 
Juniper gives you the same qualities as cedar and redwood. The best part is you can get the merits of cedar and redwood at a very cheap price. 
Juniper is naturally rot-resistant. It produces oil naturally, which keeps them from decay and protects them for years. 
Juniper is environment-friendly. The oil released naturally gets leached into the soil and works as a fertilizer.
The natural oil protects the wood from different climatic conditions and pests for many years. 
Despite having such good qualities, it will have some demerits:
It is durable but not like cedar and redwood. Juniper will last only for 7-8 years. 
Juniper is strong and, thus, very hard to cut. 
The woods are very hard to fit in without leaving gaps. 
7. Douglas Fir
Douglas Fir is another softwood material used for making raised beds. It is eco-friendly and has no harmful chemicals. 
Here are some good sides of Douglas Fir:
The wood is cheap, easily available, and decay and moisture-resistant. At less price, you get good quality woods.
The wood is softwood but stays around 7-10 years. So, this wood is a good choice if you want short-time beds. 
Despite being a softwood, it is much better than many other softwood materials. 
Douglas Fir doesn't have any chemicals. So, there is no risk of chemicals getting leached into the soil. 
There are not many bad points, except that it is more expensive than most softwoods and requires frequent maintenance.
8. Black Locust
Black Locust is a dense wood with various good qualities.
This medium-sized hardwood can hold a lot of strength and prevent bowing. 
Being a dense wood, Black Locust is durable and resistant to weather conditions like moisture, high humidity, and even pest infestations. 
The wood can last for more than three decades. 
The wood has antifungal properties like taxifolin and flavonoids, which keep the wood from rotting and decaying. That is why it is very durable. 
The presence of high amounts of calcium oxalate keeps insects at bay. 
But, due to its strength and density, Black Locust is very hard to work with.
Since it has so many good qualities, the effort you need to put behind working with it is worth it. 
9. Chestnut
Chestnut woods are great for outdoor garden beds as they are long-lasting and have a lovely grain texture. 
Chestnut is affordable and rot-resistant because it contains tannins. It also protects the wood from weather conditions and pests. 
Due to the presence of tannins, chestnuts will last longer. 
Chestnuts are hardwood. So, there are lesser chances of bowing.
Chestnut beds are easy to work with because the woods get easily glued, cut, and nailed. If you are a beginner, start with chestnut woods for raised beds. 
The woods have a dark or light brown color which gives an aesthetic appearance to your garden. 
However, chestnut woods are not much available in the markets.
Besides, they can split easily. 
10. Black Walnut
Another dense wood is Black Walnut.
Working with this wood, such as carving, sanding, cutting, and finishing, are very easier than most woods.
The wood is fungus-resistant and pest-resistant. 
Since it is a dense wood, it can remain stable for a long time. So, there is less risk of bending or bowing. 
The wood will stay fine for over a decade.
Due to its smooth finishing and easily workable feature, it can give an attractive look to your garden.
But:
The wood is not weather-resistant, for which it will need high maintenance. 
The wood is expensive and, thus, less available. 
11. Yew
Another long-lasting wood is Yew.
It is also a hard material like chestnut wood and is durable. 
Woods made of Yew last over 10-20 years. They can tolerate stress and several climatic conditions. 
Yew is naturally rot-resistant and pest-resistant. It's a good choice if you live in humid areas. 
Yew wood has a lovely orange or brown color with a straight grain texture. It adds a unique look to your garden and makes it more attractive than before. 
But, Yew woods are toxic to the skin because they contain alkaloids called taxines, which cause skin irritation, eye allergies, and respiratory issues.
So, take protection while dealing with them.
Yew woods have an oily surface which can affect the finishing of the wood. 
12. Catalpa
Catalpa is an underrated hardwood with great capacities.
It is used in many gardens for outdoor beds, and people get better results.
Catalpa is considered one of the best woods for raised beds. 
Catalpa has great stability and thus, keeps the bed in shape without bowing. 
It is naturally rot-resistant, which makes it ideal for outdoor work. 
The wood is easy to handle, screw, drill, or cut. Whenever you do anything, you get a smooth finish. 
The woods make your garden beautiful. 
But, there are some bad sides to Catalpa:
You have to put effort into making the finish more prominent. 
The wood will also get screen blotchiness.
Due to its muddy look, the stain doesn't look better. 
The wood is difficult to find. 
13. Hemlock 
This hardwood lumber is very strong and durable than many long-lasting softwoods.
Since it is strong, there are fewer chances of bowing. 
Hemlock has 11,300 psi bending strength with sufficient hardness. So, if you want some stable beds that don't bow or bend easily, choose Hemlock.
Hemlock woods give a smooth finish and look great after a coating. 
The wood can hold the coating, and the look will stay forever. 
Since the wood is very hard and strong, Hemlock is tough to work with in terms of drilling, screwing, or cutting.
A big drawback is it is not at all decay-resistance.
There are higher chances of insect infestation. 
It is also toxic to handle.
Wear gloves, goggles, and a mask while working with Hemlock.
14. Spruce
Spruce is affordable, lightweight, and can be easily worked with and handled. 
The wood is very cheap and good for short-lived beds. 
The wood will last for 7-10 years.  
The wood consists of a bright color that turns yellowish-brown over time. So, it will give your garden an aesthetic look.
Spruce easily get attacked by pests and is not resistant to several weather conditions. 
That is why the woods are treated before making beds with them.
Use paint or sealers to protect the wood from outside elements. 
15. Plant-safe pallets
These woods are great for short-term garden beds, lasting only 5-7 years. 
Most of the time, pallets are made of softwood. 
But, some pallets can thrive for a little longer. 
Wooden, chemical-free wooden pallets are the best choice for raised beds. 
Two types of pallets are used:
MT pallets are treated with a pesticide called methyl bromide. When the chemical leaches into the soil, it harms the plants. 
HT pallets, which are heat-treated. These are the best ones for plants. 
Check for the International Plant Protection Convention (IPPC) logo to select the right one.
These woods are heat treated and good for plants. 
16. Composite wood
These woods are a mixture of wood fiber, wood flour, and thermoplastic resin.
These materials make the wood extremely durable.
The wood is very durable and lasts for a very long time. 
The wood won't easily get warped or break down.
But:
It is not rot or pest-resistant. 
The color of the wood can fade. 
It is not completely made of wood.
Woods to avoid while creating beds
Despite having so many woods to make garden beds, there are few kinds of wood which you must not use for beds.
1. Recycled or reclaimed woods
These woods were either stained before or treated with lead or other toxins.
The problem is you don't know with what materials they are treated. 
You are even unaware of the origin of the recycled woods, and thus, you have no idea how durable they can be.
So, avoid recycled woods. 
A lot of recycled woods are treated with pentachlorophenol or Penta.
It is an effective pesticide and herbicide and very toxic to humans and plants. 
2. Recycled CCA-treated woods
CCA stands for Chromated Copper Arsenate.
The chemical contains a high amount of arsenic.
If you use these woods, arsenic will be released and leach into the soil. 
It will further deteriorate the plants' health.
That is why CCA was discontinued after 2003. 
Use wood sealers or plastics to prevent leaching.
But, the best option is to use untreated woods.
3. Old woods
Old woods lose their durability and strength over time.
They won't last for a very long time. 
You should avoid these old woods even if you want to use them for a short time.
Within a few months, the beds will begin to bend over. 
Besides, some old woods are pressure-treated before 2004.
It means they were treated with CCA.
These woods can leach arsenic into the soil and harm the plants. 
So, it is better to avoid old woods. 
Railroad ties and utility poles
Creosote is used in these types of woods to treat them and make them more resistant. 
Creosote is a tar-like component used in woods to protect against insects and fungus.
But, the component is poisonous to many plants.
There remains a risk of chemicals leaching into the soil and harming the plants. 
Final thoughts
Since you reached the end of the article, you now know the several types of woods to use for raised beds. All of them are the best choices for your raised beds. But all woods don't have all good points.
Try the durable woods with good resistance to pests, fungus, or moisture if you want a long-term bed. Else, you can go for the affordable ones that can last for at least 7-10 years. 
Avoid old woods, especially those treated before 2004, recycled and reclaimed wood, railroad ties, and utility poles. 
---
Reference: ScienceDirect, American Society of Agronomy, Noble Research Institute, Building a Raised Bed Garden, Developing design guidelines for calculating of width and height of raised bed.