Hens and chicks will give your garden a fantastic look with little care and attention. If you want to increase your garden's visual appeal, you can add many other plants along with this succulent.
With Hens and chicks, you can plant Sedums and other Sempervivums. You can grow cushion plants like Cushion Pink and Pussytoes, rock garden plants like Rock Speedwell, and perennials like Yarrow, Lavender, Evening Primrose, and Daylilies.
I have shared a list of plants grown side-by-side with Hens and chicks in this article. These plants are ideally grown beside Hens and chicks because they get more or less the same care. You don't need to put much extra effort into them.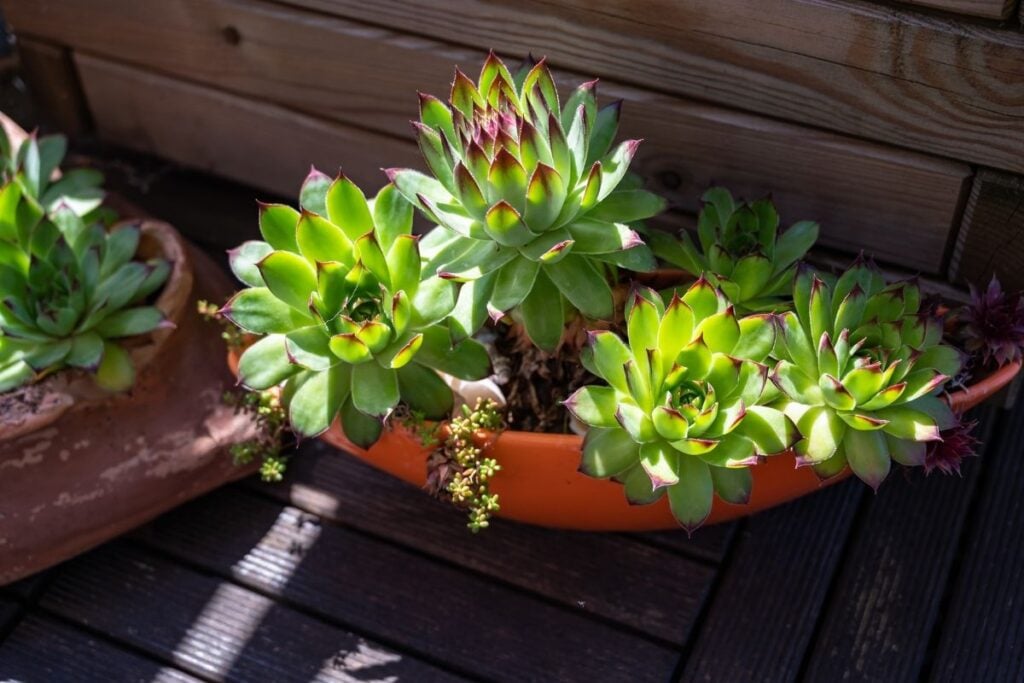 Why plant companions with Hens and Chicks?
It makes your plant look colorful.
Many of the perennials are flowering plants.
Your garden will be filled with flowers, too, along with succulents.
Only one species can seem dull.
If you love colors, you can play with colors in your garden.
Planting companions will help to give your garden a floral carpet effect.
What can I plant with Hens and chicks?
When we speak of growing some other plants as companions, it is better to choose those plants whose requirements more or less match with Hens and chicks.
Then, they can be quickly grown in the same bed with no extra effort.
Otherwise, it would be tough to maintain their particular needs.
There are many varieties of plants to grow with Hens and Chicks. Let's discuss it one by one.
---
Looking for gardening supplies? We have tested 100's of products before recommending them to you guys. Check out our best pick below:
Image
Gardening Supplies
Best Price?

Top

Top

Raised Garden Bed Kit
Check On Amazon
XLUX Soil Moisture Meter, Plant Water Monitor, Soil Hygrometer Sensor for Gardening, Farming, Indoor and Outdoor Plants, No Batteries Required
No Results

Top

Top

82 Pcs Garden Tools Set and Extra Succulent Tools Set
Check On Amazon
Joeys Garden Expandable Garden Hose with 8 Function Hose Nozzle, Lightweight Anti-Kink Flexible Garden Hoses, Extra Strength Fabric with Double Latex Core, (50 FT, Black)
No Results

Top

Top

Dual Chamber Compost Tumbler
Check On Amazon

Top

Top

Sunnyglade Plant Stakes
Check On Amazon

Top

Top

Organic Cold Pressed Neem Seed Oil
Check On Amazon

Top

Top

Mighty Mint Gallon :-Insect and Pest Control Peppermint Oil
Check On Amazon

Top

Top

Scotts DiseaseEx Lawn Fungicide
Check On Amazon

Top

Top

Jacks Classic 20-20-20 All Purpose Fertilizer
Check On Amazon

Top

Top

30,000 Seeds Pollinator Attracting Wildflower Mixture
Check On Amazon

Top

Top

Survival Vegetable Seeds Garden Kit-Over 16,000 Seeds
Check On Amazon
---
Mat-forming Succulents
Sedum Sexangulare
Also called Tasteless Stonecrop, this succulent is a mat-forming perennial succulent that bears branches and grows up to 4 inches.
They grow best in a sunny location, receiving sunlight for at least 6 hours.
It can even tolerate partial shade.
They don't enjoy soggy soil, so drainage is of utmost importance, just like the Hens and Chicks.
These Sedum varieties can tolerate low temperatures around -30°F.
Water the plant from spring through fall to keep the soil slightly moist.
Avoid leaves, stems, and flower areas.
Fertilize during the spring.
As you can see, their requirements are the same as those of Hens and Chicks, thus making them ideal for a companion for them.
You don't have to put extra effort into them.
They are longer than the Hens and Chicks. So you can plant them behind or on the sides of the Sempervivums.
Sedum Rupestre
Another mat-forming succulent is PetroSedum Rupestre 'Angelina', also known as Sedum Rupestre.
They can grow up to 5 inches, and their yellow, star-shaped flowers grow upon the 8-inch long stem.
They can tolerate a temperature of -20°F to 30°F.
They will grow best in the part of your garden that receives lots of sunlight and less watering.
Both require the same watering being succulents.
Succulents can store water in their leaves, for which they need less watering.
I am sharing a few characteristics because these are needed chiefly for good growth.
These features are the most common ones matching with Hens and Chicks.
That is why these Sedums will also grow ideally with Sempervivums.
Sedum Hispanicum
They are also called Blue Carpet or Spanish Stonecrop.
They are a hardy perennial succulent that bears small blue-grey needle-shaped leaves.
They are excellent groundcovers like the Hens and Chicks, growing 6 inches in height.
Like Hens and Chicks, they will change color during low temperatures.
Hens and Chicks turn red, and Sedums turn purple.
With such color combinations, your garden will look colorful.
They will enjoy a sunny spot in your garden, with little watering.
Fertilize them slightly during the spring.
All these Sedums and other varieties of Hens and Chicks have more or less the exact requirements, be it water, soil, light, or temperature.
They even grow actively during the months of spring.
Such similarities make them companions.
They can be quickly grown together in the same bed.
All of these belong to the Crassulaceae family.
Cushion plants
These plants are an excellent choice for Hens and Chicks companions.
They are sun-loving and drought-tolerant plants and can be grown in the same bed.
Some great choices are:
Dianthus Subacaulis
This perennial herb grows up to 3 inches and is excellent groundcovers.
They grow best under full sun.
They have a strong smell. Growing Dianthus with Hens and Chicks can deter many pests like deer, rabbits, and rodents.
Both are ideally grown in zones 3-8 and can tolerate temperatures of -30°F.
Dianthus enjoys soil pH 7.5-8.5, and Hens and Chicks need 6.6-7.5.
Both the ranges are nearly neutral to slightly alkaline soil. So, both can be ideally grown in the same garden bed.
Dianthus enjoys daily at least 6 hours of sunlight.
They do best during regular watering, i.e., make sure that the soil remains slightly moist.
These features are the same as Hens and Chicks.
So, it must be clear that both can be grown as companions.
Plant the Dianthus on the northern or eastern side for good results.
As both are ground covers, it will look good.
Pussytoes
These plants grow best under full sun to partial shade, dry conditions, and well-drained soil.
They will even grow over poor soil or rocky soil.
These plants grow about 6 inches in height and look great beside or behind Hens and chicks.
They are highly rabbit and deer-resistant.
If your region faces a problem with these pests, Pussytoes can deter them.
Moreover, you will find white flowers blooming during April and June, resembling a cat's paw. That is why they are also called Pussytoes.
Perennials
Many perennial flowering plants can be grown besides Hens and Chicks.
Yarrows
These are great herbaceous perennials in white, yellow, red, and pink.
Yarrows paired with Hens and Chicks will give your garden a beautiful look.
These will grow both in full sun and partial shade.
If your garden has dwarf varieties that need protection from direct sunlight, grow Yarrows.
Plant them in such a position that they can filter the direct sun.
Yarrows won't mind the full sun.
Both Yarrows, Hens, and Chicks will become weak and floppy in highly nutrient-rich soil.
So both can be quickly grown in the same bed.
Yarrows are desert origins whereas, Hens and Chicks belong to the rocky origin.
As a result, both the plants will not like to sit in soggy soil.
They enjoy evenly moist soil to stay hydrated all the time.
However, some Yarrows can still grow in nutrient-rich soil, which Hens and chicks do not prefer.
So, be careful about it.
Lavender Angustifolia
Another name for this plant is English Lavender.
This plant grows best under the full sun for 6-8 hours, like Hens and Chicks.
Lavender also requires sandy or gritty, well-drained soil, along with pH ranging between 6.7 and 7.3.
Watering once per week during the growing seasons is enough for both plants.
Again, here you don't need to water them separately.
Similarly, both the plants are low-maintenance and don't require much fertilizing.
Though Hens and Chicks won't find if fed, you can still ignore fertilizing.
So, you can conclude that both Hens and Chicks and Lavender are great companions that can be quickly grown in the same bed.
No extra effort is required to take care of them.
Lavender Stoechas
They are also called Spanish Lavender, French Lavender, and Butterfly Lavender.
These plants can grow up to 24 to 30 inches taller.
Spanish Lavender thrives under the fully exposed sun.
If your Hens and Chicks need protection from the full sun, these plants can help them.
Plant them in a location where they will get full sunlight and filter it to reach the Hens and Chicks.
For decorating the garden, try the front or middle borders.
Spanish Lavenders grow well in dry and slightly moist soil that can drain well. It will do best if the soil is sandy.
Good drainage is essential for both Lavender and Sempervivum.
Both are spring growers.
Lavender blooms from mid-spring to late summer will look great, along with rosette-shaped Hens and Chicks.
Both the plants don't require much fertilizing on the grounds.
Daylilies
Daylilies are pretty and colorful perennial flowering plants.
Daylilies and other flowering plants discussed above help pollination to a great extent.
Now let's see what makes them an ideal companion for Hens and Chicks.
Both Daylily and Hens and Chicks require full sun for at least 6 to 8 hours daily.
Both grow best in well-drained soil.
Both the plants will require some amount of shade from the harsh afternoon sun of summers.
So creating shade will work for both equally.
They don't require fertilization.
However, feeding Hens and chicks slightly during their growing months is fine.
Though Daylilies require slightly acidic soil, the pH level for Hens and Chicks is from 6.6 to 7.5.
Since Daylilies are adaptable, both the plants can be grown in the same bed.
Red Valerian
These plants have the longest blooming seasons, starting from early summer until the fall.
They have lots of colors like pink, white, blue-green, etc.
They grow up to 2 to 3 feet tall and spread about 18 to 24 inches.
Red Valerian prefers full sun like the Hens and Chicks.
Both will grow best in well-drained, sandy soil that is slightly moist.
Both Hens and Chicks, and Red Valerian can thrive in poor soil. You can grow them together.
Red Valerian will grow well in neutral and slightly alkaline or acidic soil.
It makes them a perfect companion for Hens and Chicks as they too can grow over the same soil.
They will not require much water because they are drought-tolerant plants, especially natural rainfall.
However, the young seedlings will need light water.
Both will need water when the soil gets dry.
Since both can grow over poor soil, fertilization is needless.
Evening Primrose
Evening Primroses are herbaceous perennials.
They can grow about 3-5 inches in height and spread about 2 to 3 inches.
They bear pretty yellow flowers during the summer and early fall.
Since Hens and Chicks is a different plant type, let's see what makes them a companion for Hens and Chicks:
Both the plants require full sun to thrive.
Good drainage is essential for both Hens and Chicks and Primrose for soil.
The soil can be slightly moist but shouldn't be soggy. It will result in rot.
Water both the plants enough so that the soil stays moist all the time.
However, Hens and Chicks can stay without water for a week or two. But be careful about Primroses.
Try deep and infrequent watering to avoid any watering issues.
Fertilizing is unnecessary for Primroses, too, like Hens and Chicks.
However, small feeding can help to increase their growth.
The only extra care you need to do with perennials is to prune them from time to time.
Some will need pruning to stop legginess, and some will need deadheading to remove spent flowers so that the plant doesn't go to seeds.
For pruning at the right time, check the condition of the plants. Prune 1-2 inches.
Rock garden plants
Rock Speedwell
Speedwell is a low-maintenance plant, growing about 1 to 3 feet tall.
The plant is available in many colors like pink, white and blue.
They are ideal companions for Hens and Chicks because:
Both Hens, Chicks, and Speedwell grow suitably in zones 3 to 8.
Though they grow well in slightly moist soil, Speedwell does best in rocky gardens.
They are drought-tolerant plants.
But too much moisture causes root and stem rot and mildew. The same is for Hens and Chicks.
Both the plants can grow over neutral or slightly alkaline soil.
So, both can be grown in the same bed.
Both are not at all heavy feeders.
However, fertilizing slightly during the spring can increase the growth and flowering of Hens and Chicks and Speedwells, respectively.
Both will grow best under full sun or partial shade.
However, mulch materials are not the same for both.
At one point, both will need mulching.
What works for one plant will not work for the other.
For Speedwell, it is pine and bark materials, and for Hens and Chicks, it is pebbles and stones. You have to be careful while mulching.
Final thoughts
The discussed plants are not the only plants with Hens and Chicks. There are many other plants that you can plant with Hens and chicks. Before you grow, just check about the requirement of the plant you want to grow with your succulent.
Some of the plants mentioned above can be toxic for pets. If you have pets, take steps to stop them from reaching the garden.
Succulents like Jovibarba Heuffellii (other Hens and Chicks variety), cushion plants like Miniature Yellow and Yarrow, mat-forming plants like Thymus Serpyllum, Raoulia Australis, low shrubs like Penstemon Cardwellii, Hebe Red Edge, sun-loving dwarf conifers like Pinus Mugo and Donna Mini, perennials like Fortnight Lily, Treasure Flower, Matilija Poppy, Bird of Paradise and the list continues.
There are many plants to grow with Hens and Chicks. If you love color and plants and have enough time to take care of them, you can keep growing all types of plants whose requirements match Hens and Chicks.
---
Reference: Wikipedia, Iowa State University of Science and Technology, The University of Arkansas Division of Agriculture, NSDU, The Ohio State University, Missouri Botanical Garden.